Here are four participating artists in the Shimokitazawa Art Jiyu-Ichi event.
You can find their artworks and examples of what they want as offers from you!
What would you offer to in exchange for their amazing artworks?
柚木恵介 | Keisuke yunoki
*Participating on 25th and 26th / Exhibition at Shimokita Square
Born in Kagoshima Prefecture, 1978. Theme of his project is to engage with people, paying periodic visits to each lands. Starting from his participation to Triennale Setouchi (2013), with his works of "Shima no Ie Project" (Project of Island Houses) and "Shodoshima Koukou Omiyage Club" (Shodoshima Highschool Souvenir Club), his activity expands its area, including "Barter Change Project Thai+Daigo" (2015). At Kenpoku Art, he has demonstrated his "Barter Project. This is Yunoki's project since 2009; he travels around Japan and overseas, exchanging goods with people.
He photographed 2 months of spontaneous stories which took place in 6 districts of northern Ibaraki Prefecture while he exchanged goods with locals, tourists and artists.
Exhibition type: Interactive
Participants can join Yunoki's Barter Project by exchanging one object you bring. (You can exchange only one object) So far, Yunoki exchanged 1200 objects with people. The objective of this project is not to exchange objects, but to foster deeper communication and interaction between people.
The artwork up for offer
1 An object Yunoki exchanged with the last visitor.
2 Specially designed sign plate (Shimokitazawa version) to be put on the Yatai. Yunoki always make a different sign plate depending on the location he travels and holds the barter project.
Exciting Offers for yunoki
It has been 8 years since "Barter Project" has started. Both in and out of Japan, from the single starting object, I have made thousands of exchanges. Things which will be exchanged here at Shimokitazawa will surely be exchanged with one another somewhere in the world. It can be something special, can be a special skill or action, it doesn't matter. It'll be my pleasure if you can bring in a good that represents 'you', as a gift to an unseen receiver of yours.
For Examples…
A special thing that represent who you are
Your special skill
Something that can be put on a my stall
滝沢達史 | Tatsushi Takizawa
*Exhibition at Touyou Hyakkaten
Born in 1972. Graduate of Tama Art University, majoring in oil painting. Traveling across Japan, he produces works based on thorough research of the environment he is in. He then produces work responding to the space though spatial representation and action.
His recent and diverse works include, collaboration with truant children (Forest of Expression/Arts Maebashi), and "Awashima Lab", museum that continuously stores relics of an island (Setouchi Triennale).
http://www.takizawatatsushi.com
Exhibition type: workshop
A face, to me, is sometimes too strong. Slightly hiding the face is comforting.
I will ask the audence to cover their face with a paper shopping bag. In doing so, I explore the questions; is this unusual action an unique interpretation of conversation between artist and viewer; or does the act of covering ones face inherently block relationship? Is the deeper meaning behind the action a response to the constant cycle of trends with fashion and consumerism, or a new way to look at the exchange of goods? These nebulous and personal questions aim to mirror the questions being asked about the current state of upheaval and change to Shimokitazawa.
My process is;
1、I communicate with the audience, and aim to know them on a personal level. Then we create a mask using a shopping bag from the local area.
2、I then photograph the audience members profile, although they are masked.
I ask 50¥ for to cover my printing costs.
The artwork up for offer
A portrait drawn in profile inspired by my conversations and process throughout the event.
Exciting Offers for TAKIZAWA
I want to produce artworks in overseas - I would like someone to teach me English.
A hiking tour guide who would take me to hike snowy mountain
Someone who can fix my backache
… though artist is always intrigued to a thing that goes beyond one's imagination- So unexpected is an offer I would like the most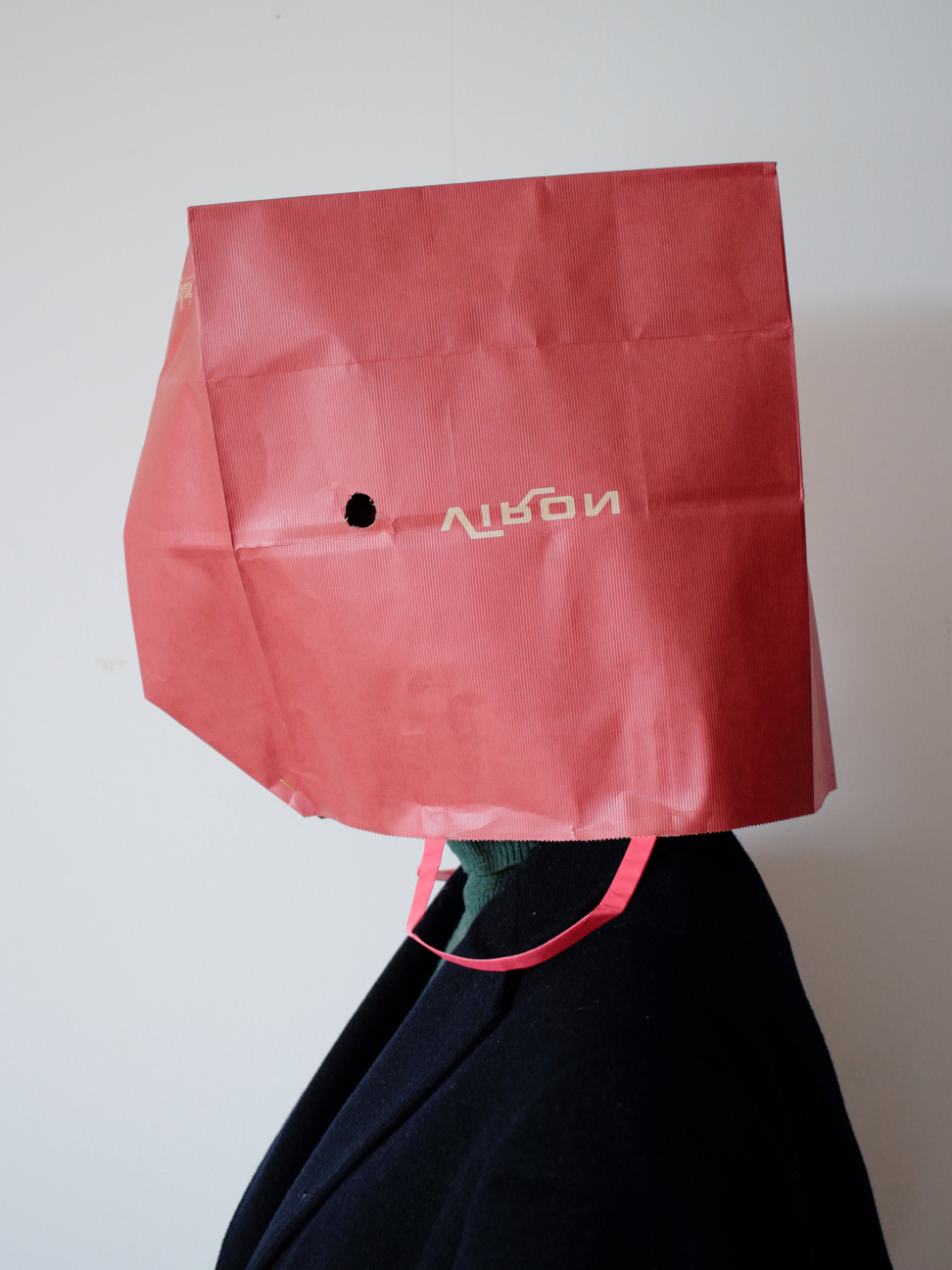 小川敦生 | Atsuo ogawa
*Exhibition at Shimokita Annex
Born in Kanagawa Prefecture, 1969.
Repetition, aberration…collective of details with expansion to numerous movements become a pattern-like picture by the hand of this drawing writer. While relying to autonomy of lines, those lines are expanded into one line in correspondence to each opportunity and media.
Past Private Exhibitions:
2001: OFFSITE "POOL" / 2010: TRAUMARIS "MIROIR" / 2012: BASE GALLERY "animation" 2014: 20202 "exit/enter" / 2016: Kokokara "Su no Kenchiku"
Main Group Exhibitions:
2005: "VOCA" / 2010: "MOT annual"
Exhibition type: Live drawing
For three days I will be drawing with chalk across the pavement in the Shimokita annex.
This drawing will be responding to the ever changing environment; parts may be erased by weather, and portions of my drawing 'canvas' may be obstructed by the audience, these elements will all influence the final piece.
This artwork proposes questions about the value of documentation over memory, and the permanence of both. As the artwork can be erased by a light rainfall, or changed dramatically by events during the three days, there will be no physical record of its existence; however it will remain permeant in the memories of those who were there to see it; asking the audience to think about which is ultimately more valuable.
The artwork for offer:
A series of photographs showing the process of my drawing up until the point in which the artwork is erased.
Exciting Offers for ogawa
For Examples…
・ Teaching a new technique for drawing which I have yet to try.
・ Using the memories you have from the process, and the photographs up for offer to create a new work of art.
・The promise of commissioning a new piece inspired by the space you provide.
Comments from participants
Winner's offer
Nozomi bid a free accomodation in Berlin and the support for setting up Mariko's debut exhibition.
Nozomi's Comment
"It was an amazing experiece! I enjoyed the conversation with each artist as well as their amazing works! What fascinated me the most in the YAMI-ICHI auction was that I could feel the connection between artists and the visitors. Also I had to think very hard what I could offer instead of money, and I realised that this led me realise what I am very good at, and it felt really good. "I have been in touch with Mariko after the auction, and she is now planning her trip to Berlin! I cannot wait to meet her and help out with her debut exhibition!
MARIKO'S COMMENT
"I was so touched by all of the offers I heard in the auction. Every bidders were very interested in my work and trying to offer something that could help achieving my future goals. I picked Nozomi's offer because I always wanted to go to Berlin and study at an art university in Berlin. I cannot believe that someone in the auction had an accomodation in Berlin!! I am looking forward to meeting Nozomi there, and I am very excited about my future!"